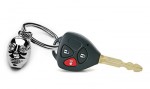 On April 7, lawyers for General Motors filed a letter in a Manhattan federal court reporting that a settlement had been agreed to in a lawsuit filed over a faulty ignition switch. The lawsuit alleged that in November 2013, a man was killed in a car accident when his vehicle shut off without any warning due to the defective switch.
Case Was One of 3 Test Trials Chosen by Plaintiff's Attorneys
This lawsuit was one of three cases that the plaintiff's attorneys had chosen to take to trial.
This case was different from the other two, however, because instead of alleging serious injuries, it alleged that the faulty ignition switch was responsible for the man's death.
The victim was driving a 2006 Saturn Ion when the accident occurred in Bedford County, Pennsylvania. According to court papers, the defective ignition system shut the car down, which resulted in the brakes and power steering system being disabled. The car crashed into the bank of a ditch and a concrete culvert. The man, who was the father of five children, died just over two weeks after the crash from a traumatic brain injury.
Settlement on Heels of Jury Decision for GM in Another Case
Just last week, a jury in another ignition switch case was convinced by GM attorneys that the part – although found defective – was not responsible for that accident. The other case was heard in January and there was no verdict. There were allegations that misleading testimony was given by the plaintiff.
The details of the settlement are confidential, but GM did acknowledge that a settlement deal was reached. There are another 235 injury and death lawsuits that have been consolidated and will be heard by a federal judge in Manhattan.
Can an Attorney Help?
If you have been injured or if you have lost a loved one because of an accident involving a defective ignition switch, an attorney can provide guidance and advice. You can learn more about seeking compensation for injuries, losses and related damages.