Multi Vehicle Auto Accident Attorney
Car accidents are the number one cause of wrongful deaths in America for people under the age of 33. One common type of automobile crashes are multi motor vehicle accidents. These types of multiple car accidents have involved upwards of 100 cars, trucks, motorcycles, big-rigs, semi-tractor trailers and 18 wheelers. These types of accidents are generally more serious than car accidents involving two cars because multiple vehicle accidents generally occur over a prolonged period of time, especially before emergency assistance can arrive. Generally, a few cars or trucks will be involved in a collision, and before any of the drivers are able to move their cars to safety, other drivers negligently crash into the rear-end of the vehicles already stopped. A multiple car accident attorney will be able to provide you with your available legal options once we have discussed the events of the car crash.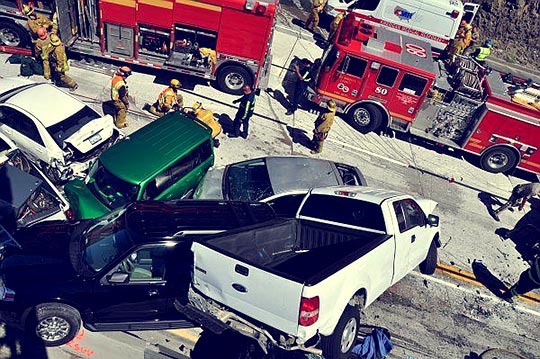 In Los Angeles it is very common to have chain reaction accidents in which multiple vehicles are involved as most motor vehicle drivers are driving too quickly, and are following too closely to the vehicle in front of them. As a vehicle is forced to stop suddenly on a freeway or other roadway around downtown Los Angeles, the vehicle following that stopping vehicle are generally unable to stop resulting in a rear-end collision.
Even if you are traveling at low speeds, one may still suffer serious spinal injuries, brain injuries, as well as broken bones causing pain for many years after the crash. A multiple vehicle collision lawyer is essential as each person involved in the car pile-up will be represented by counsel and will claiming they should be compensated for their injuries. With the ever increasing number of people in the multiple vehicle accident, the more time is necessary to review the police reports, interview all of the witnesses and speak with expert witnesses. Our auto accident law firm is geared to assist people with these types of accidents.
Safety tips
Multiple vehicle crashes or pile-ups most often occur on Los Angeles freeways such as the 5 freeway, 10 hwy, 110 fwy, and the 405. Multi-vehicle accidents are considered one of the most dangerous and fatal forms of traffic accidents, especially with the high likelihood of gasoline explosions and fires.
Additionally, multiple vehicle accidents are generally more dangerous than regular car accidents as people tend to exit their vehicles to exchange information and to assess the damage. While they are no longer protected by the steel cages of their car, people are often more seriously injured. Therefore, if you have been involved in a multi-motor-vehicle accident, remain in your car until help has arrived. Or if you must exit your vehicle because of a fire or other hazardous materials, get as far away from the accident scene as possible so there are no chances you could be hurt if people crash into the cars already involved in this accident. This and other safety tips are provided by our Los Angeles Auto Accident Attorneys, so please contact us if you have any questions.
Have You Been the Victim of a Multi-Vehicle Accident?
When someone is injured in an auto accident determining negligence is always a battle and that is why experienced legal representation is very important.  If you have been the victim of a multi-vehicle accident in Los Angeles, you need to consult a well educated attorney who is familiar with insurance company tactics and who isn't afraid of presenting your case at trial.
Watch a video of a Multi Car Accident In Sacramento

Law and dayily life is a nonprofit educational resource. All of the revenue received through advertising on this website will be donated to the UNICEF.