About Truck Claims
Claims arising from truck accidents require a slightly different approach to those of other types of accidents.  The trucking industry is governed by unique laws which will affect the investigation of your case and the basis of your claim.  It is vital to have a Los Angeles injury attorney who is familiar with this area of practice in order to be effectively represented.  Trucking companies are also typically backed by insurance companies with significant resources and an unsympathetic approach.
The legal team at The Law Office of Lee Arter has a firm grasp of the laws relevant to your incident and has no qualms about going head to head with the insurance company involved.  Our familiarity with the logistics of truck accidents greatly assists our investigations and ability to confidently defend your rights.  You may contact us to discuss your concerns and obtain a free initial case evaluation.  We do not charge any fee unless we succeed in recovering compensation for your accident.
Negligence in Truck Accidents
There are many forms of negligence which can cause truck accidents, whether on the part of the driver, the trucking company or a third party.  Some of these include:
Driving while fatigued
Driving recklessly or negligently
Failing to observe correct truck load requirements
Issuing dangerous schedules and unrealistic deadlines
Failing to responsibly screen drivers during the hiring process
Not providing sufficient training
Failing to ensure sound vehicle repair and maintenance
Manufacturing or selling defective truck parts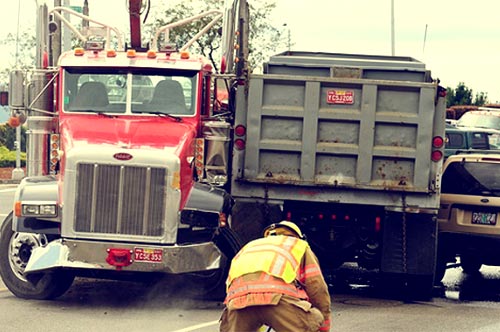 18-Wheeler Accident Lawyer serving Los Angeles, California
While truck accidents can occur because of many different reasons, a majority of truck collisions are preventable and are triggered because of the negligence of a trucking company or truck driver.  Our expert Los Angeles 18-wheeler accident lawyers have successfully represented countless clients achieve financial compensation for the injuries and damages inflicted because of the careless, reckless actions of the 18-wheeler operator or owner.
Negligence and Investigation
With Los Angeles being almost surrounded by some of the most active freeways in California and being the headquarters for many major corporations; it is no surprise that there is a large quantity of trucks on the streets and freeways.  With the competition amongst trucking companies and the economic hardships of our times, trucking companies are looking for quick turnarounds and many times basic maintenance and safety measures could be overlooked.
The skilled truck accident attorneys in our Los Angeles injury accident law firm are well educated as to the laws and regulations in which trucking companies and their drivers must adhere to, and know the logs and journals which the truck drivers and the truck owners must record the maintenance schedules, the loads being transported, the driver's schedule, pre-trip safety checks, and all the other safety measures that must be followed.  Our lawyers are aware of what paperwork, logs and journals must be reviewed, when to consult with expert investigators, accident reconstruction experts and other necessary specialists to establish the negligence that brought about the collision.
The laws and regulations that trucking companies and truck drivers must abide by are strict and do not allow for any violation.  The truck accident attorneys in our Los Angeles accident law firm can efficiently examine the mandatory logs and journals to determine if any violation has been committed, and how that breach contributed to the 18-wheeler collision.
Los Angeles Big Rig Accident Attorney
For many years our Los Angeles big rig accident attorneys have assisted clients who have suffered injuries and damages as a result of collisions with big rig trucks.  If you or a loved one has sustained injuries due to an accident with a big rig truck, it is important that you contact a lawyer who has experience, skills and knowledge of accidents involving these over-sized vehicles.
Complex Big Rig Truck Collisions
Accidents that involve big rig trucks are extremely complex as there are strict regulations that govern truck drivers and trucking companies.  These rules must be precisely adhered to at all times, records, logs and journals kept for every truck, every driver and every shift.  The injury accident lawyers in our Los Angeles truck accident law firm are well educated with much experience in representing clients injured in collisions with big rig trucks.  Our attorneys know what the strict regulations are, what journals, logs and records to ask for, how to review those documents and what questions must be asked of the truck driver and trucking companies.  The big truck accident lawyers in our Los Angeles injury accident law firm have the necessary experience and skills to protect your rights against the deep pockets of the insurance carriers and trucking companies.
Our injury attorneys will conduct a thorough and complete investigation into the truck collision to ensure that all the responsible parties are identified and held responsible for the injuries and damages you have sustained.  Any accident involving these over-weight big rig trucks will cause severe, debilitating injuries.  A 40,000 ton big rig colliding with a 2 ton passenger vehicle is going to cause serious injuries to the occupants of the passenger vehicle. Those injuries can include brain injuries, neck and back injuries which can cause temporary or permanent paralysis, and even death.  The injuries suffered will require extensive, long-term medical care, loss of income and future lost earnings, medical costs, property damage and other expenses related to the accident. The Los Angeles accident lawyers in our truck accident law firm have extensive experience and can assist you in recovering monetary compensation for the injuries you have suffered and the damages incurred, such as medical bills, loss of income, property damage, future medical costs, pain and suffering, and other accident related expenses.
For a confidential, no cost consultation and to learn how we can help you obtain the financial compensation you need and the justice you deserve, call our Los Angeles big rig truck accident attorneys today.
Other cities we serve: Los Angeles, San Clemente, Dana Point, San Juan Capistrano, Ladera Ranch, Monarch Beach, and other Orange County cities.
Dump Truck Accident, Los Angeles
If you have been injured in a Los Angeles dump truck accident, you may have suffered serious injuries for which you may receive compensation. Dump truck accidents can be very dangerous because these types of trucks may rollover because they have such a high-center of gravity. Additionally, since the drivers are located high above the ground in the front of the truck, they may not be able to see other automobiles such a motorcycle, car, auto or other truck. These drivers may also not be able to see pedestrians or bicycle riders. Call and speak to our Los Angeles truck accident attorney to discuss the facts of your case.
Common Causes of Dump Truck Accidents
While there may be many issues which resulted in your dump truck accident, some of the most common causes of truck accidents include the truck driver under the influence of alcohol or drugs (driving drunk), the driver is unqualified or not trained to drive this type of truck, lack of sleep and / or rest, failure to obey traffic laws (driving too close to other vehicles or speeding), as well as the large blind spots on large dump trucks.
There may also be additional safety rules or regulations that the truck driver failed to comply with which resulted in your Los Angeles truck accident. Our truck accident lawyer Los Angeles will make sure that the responsible truck driver and the truck driver's company will be held responsible for their negligence and your resulting injuries. While the truck driver or the truck company's insurance company make argue that you are partially to blame, our experienced truck accident attorneys will hire a professional investigator to investigate the scene of the accident to determine who was at fault for causing your injuries. Help is only a phone call away, so contact our law firm with any questions you may have regarding your accident.
If you were injured in a dump truck accident in Los Angeles, our attorney can help you. Call our lawyer today at 800-715-4489 for a free consultation.
Tanker Truck Accident Attorney, Los Angeles
Tanker truck collisions result in destructive property damage and devastating physical and emotional injuries.  Tanker trucks are massive and often filled with hazardous liquids that can cause serious injuries if spilled.  For many years the tanker truck accident attorneys in our Los Angeles truck accident law firm have assisted clients who have been sustained injuries and damages as a result of a collision with a tanker truck.
The loads in the tanks carried by these enormous trucks are unstable as they shift back and forth, side to side while being transported.  Many times the massive weight of the liquid will shift causing cause the trailer to roll over, the truck to speed up and become uncontrollable.  Any combination of events can create a horrific crash causing terrible, catastrophic injuries and even death.
Experienced Los Angeles Truck Accident Lawyer
When your or a loved one has been involved in an accident with a tanker truck, it is important that you seek out attorneys who have expertise, knowledge and skills in representing clients against trucking companies.  Truck companies and their insurance carriers have teams of investigators and adjusters to put on an accident claim to work at limiting the responsibility of the trucking company.  The expert truck accident attorneys in our Los Angeles injury accident law firm are well schooled in the strategy of insurance carriers.  Our injury lawyers work with our own network of accident reconstruction experts and investigators to make certain that those responsible are properly identified.  The experienced tanker truck accident attorneys in our Los Angeles truck accident law firm will deal with the insurance company, investigators, and adjusters to allow you the time you need to focus on your recuperation and your family.  The goal of our lawyers is to lighten some of the stress related to the tanker truck collision.  Your focus should be on your physical and emotional well-being and not be burdened by the legal procedures that are required in dealing with a complicated tanker truck accident claim.
For a free case evaluation and answers to your questions, call our Los Angeles tanker truck accident attorneys today to learn how we can assist you to achieve a better tomorrow.
Other cities we serve: Los Angeles, Santa Ana, Anaheim, Orange, Placentia, Yorba Linda, Fullerton, and other Orange County cities.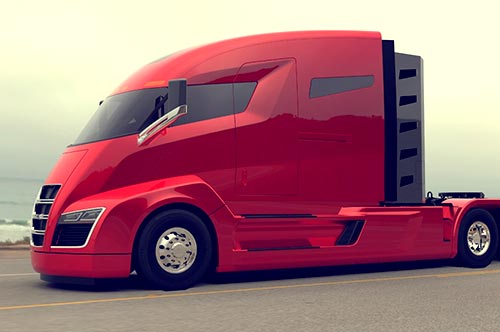 Tractor-Trailer Truck Accident Lawyer
Were you injured in a truck accident involving a tractor-trailer? There are many negligent reasons why the tractor-trailer truck driver may have caused the auto accident, and they should be held accountable. In addition to the truck driver not being professional trained to drive such a large vehicle, they driver may have failed to perform a pre-trip inspection which resulted in the trucks cargo to become unbalanced or improperly restrained which may have resulted in the jackknife accident or rollover accident. Such negligence on the part of the truck driver may have contributed to his inability to stop in time because of speeding or perhaps even poorly maintained brakes or cargo overloading.
No matter what caused you to be injured in a tractor-trailer truck accident, you are entitled to receive compensation for your injuries caused by the driver's negligence. Additionally, you can bring a wrongful death personal injury case on behalf of any loved one who may have been killed in this truck accident.
Hiring an Experienced Truck Accident Lawyer
After your truck accident, you should hire a tractor-trailer attorney to represent you because these types of accidents are very complex. They often need an expert to reconstruct the auto accident, and there are often multiple insurance companies involved. It is the responsibility of our truck accident lawyer Los Angeles to make sure that you receive the largest compensation for your injuries, and by hiring our attorney, we will be handling all of the insurance companies as they all have their own method of processing truck accident claims and ways they attempt to reduce or prevent pay outs to injured victims. We are very familiar with insurance companies tactics, and we are here to help you quickly resolve this legal matter so you can move forward with your life.
It is very important that you contact our law firm now because any delays may significantly reduce your available recovery. Upon calling our firm, you will speak to a knowledgable attorney who will review your truck accident case and prepare all of the legal documents required to assist you recover compensation for your injuries.
Los Angeles Commercial Delivery Truck Accidents
In the City of Los Angeles, commercial delivery trucks are an essential and vital part to keeping the city running.  These various commercial delivery trucks deliver goods, supplies, and food for everyone in and around LA.
Were You Injured by a Commercial Delivery Truck?
If you or a loved one was seriously injured in a commercial delivery truck accident, where you were either a driver or passenger of a motor-vehicle or if you were a pedestrian or bicycle rider in Los Angeles, then you should contact one of our Los Angeles Commercial Delivery Truck Attorneys to recover from insurance companies as well as other entities.  Minor injuries or serious injuries including brain trauma, broken bones, serious bleeding or concussions may require extensive LA medical treatment.  It is therefore important that you hire an experienced California Truck Collision Lawyer who can find all of the parties from which you can recover for your monetary compensation.
Los Angeles Commercial Delivery Truck Driver Negligence
Commercial Delivery Truck Drivers in and around Los Angeles are under extreme pressure to deliver their packages as quickly as possible to live up to their company's requirements.  Some examples of California Commercial Delivery Truck Driver Negligence or Reckless Driving can result in such cases as when a commercial delivery truck driver drives backwards and seriously injures innocent parties.  A driver may also be exhausted and recklessly cause an accident by hitting a pedestrian or another motor-vehicle.  The driver may also fail to engage the parking brake while running a package into a building for delivery.  The Delivery Truck may then roll into traffic causing a serious truck accident.
Los Angeles Negligent Maintenance of Delivery Vehicles
Local delivery trucks, service vans, pizza delivery cars, and other restaurant delivery vehicles may be poorly maintained vehicles where the tires may be poorly worn, the brakes may not stop properly, the employees may also be driving under the influence of alcohol or drugs.  There also may be tire blowouts, and cheaper defective tires may also be used.
Los Angeles Jack Knife Truck Accident Attorneys
What is a Truck Jack-Knife?
A truck, big-rig, 18-wheeler, commercial truck or some other articulated vehicle (a motor vehicle towing a trailer – such as a car towing a boat) jacknifes (jackknifes) when it resembles a pocket folding knife.  Generally a jack knife occurs when the semi-tractor trailer loses traction and the towed cargo continues to move forward pushing the articulated vehicle which will rotate at the hitch point causing the truck to spin or rotate out of control where it will end up facing backwards.  The truck driver is then unable to move either his trailer or the cargo because of the forces which were exerted on the cab of his car which made it face backwards.  While some jacknifed (jackknifed) trucks tip over or fall onto one side, they may catch on fire or spill their cargo, including hazardous or flammable chemicals.  The types of injuries one may sustain if they are involved in a Los Angeles Jackknife trucking accident may be serious.
Why May a Truck Jack Knife?
Some of the causes of truck jack knifes include:
truck mechanical failures;
truck equipment failure;
improper braking;
negligence;
overloaded cargo trailer;
wet roads;
excessive rate of speed;
icy roads; and
sharp turns.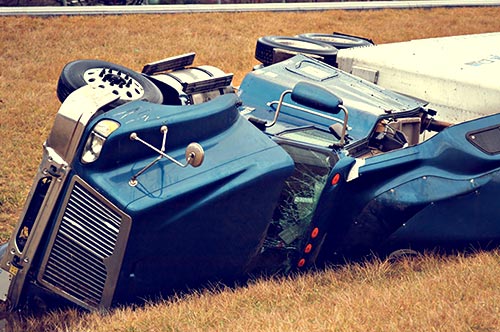 Los Angeles Truck Rollover Injury Attorneys
Trucks, big-rigs, 18-wheelers, and tractor trailer trucks are very heavy motor-vehicles that are often harder to control than smaller cars or SUVs.  Some of the factors that play a vital role in whether a truck will rollover is:
the speed of the vehicle;
the stability of the truck's load, and
how the center of gravity is affected.
These, and other factors, may cause the truck to rollover causing serious or fatal injuries to innocent people near and around the scene of the Los Angeles Truck Rollover Accident.
Where do Truck Rollovers Generally Occur?
In and around LA, truck rollovers occur at freeway and highway exit and entrance ramps when the truck driver misjudges how sharp the ramp curve is combined with speeding.  Most truck drivers have even stated that they were unaware of their truck rolling over until they observed their wheels on the inside of the curve coming off the ground.  Additionally, the truck's cargo or load may shift when making turns, but this is generally a result, not the cause, of the rollover accident, as the extreme tilting of the trailer puts an enourmous amount of force on both the trailer and the cab of the truck.
Possible Truck Rollover Factors
Truck Driver Entered Curve At Excessive Speed
Big-Rig Driver Unaware of Semi-Tractor Cab and Trailer Limitations
18-Wheeler Driver Failed to Anticipate Sharpness of Curve
Semi-Tractor Trailer Truck Driver Drove Onto a Soft Shoulder
Truck Driver Drifted Off of the Road and Driver Inappropriately Countersteered
Big-Rig Driver Failed to Follow and Comply with Speed Advisory Restrictions
18-Wheeler Driver Accelerated Through a Sharp Curve
Truck Driver Negligently or Recklessly Transported His Load with a High Center of Gravity Due to Inexperience
Big-Rig Driver Steered Abruptly Possibly During Truck Accident Avoidance Maneuvers
Truck Driver was Impaired by Fatigue
Semi-Tractor Trailer Truck Driver was Impaired by Drowsiness
18-Wheeler Driver was Imparied by Alcohol
Big-Rig Driver was Impaired by Drugs
Truck Driver was Impaired by Poor Eyesight or Vision
Big-Rig Driver was Driving Reckless
18-Wheeler Truck Driver was Driving Angry
Semi-Tractor Trailer Truck Driver was Driving While Emotional
Truck Driver was Generally Upset
Semi-Tractor Trailer Truck Rollover Factors
Truck Cab or Trailer has Under-Inflated Tires
Big-Rig Trailer has a Top-Heavy Load Causing a High-Center of Gravity
Truck Cab or Trailer has a Collapsed Suspension which Causes the Center of Gravity to Shift Causing a Truck Rollover
Brakes Improperly or Poorly Maintained
Truck Cargo Improperly Distributed in Truck Trailer
Load Shifts While Driving or Making Turns
Los Angeles Wrongful Death Attorneys
Truck Accidents May Cause a Wrongful Death in Los Angeles, California
When a person is killed in a fatal accident, such as a medical error, or a motor vehicle accident caused by a negligent driver it is considered a wrongful death. When a family loses someone in a wrongful death there are many unanswered questions and devastating realities to face. When your loved one is killed in an car accident, such as a truck accident which crushes their vehicle, it is just as heart breaking. Truck accidents are among the most deadly types of motor vehicle accidents in LA, and the cause of over 600 deaths a year in the United States.
Big trucks in Los Angeles can cause damage to a car almost instantly upon an auto collision, and the implications of the injuries suffered by those who are in the vehicle are terrible. Serious injuries which usually cause a wrongful death that someone may sustain from a trucking accident may include large quantities of blood loss, decapitation, loss of a limb, severe brain damage, heart attack, a crushed body or damage to internal organs that is irreversible.
Wrongful Death Liability Laws
The other driver, their passengers, or the truck driver may end up being the person who is killed in the tractor-trailer accident. It all depends on who is liable or the negligent party which determines who has actually been the victim of a wrongful death. The law states that a person who was at fault for the truck accident is the person who will be held accountable for the deaths and injuries of all people who were involved.
For instance if the California Truck Accident is found to have been caused by negligence on the part of the truck driver then he could and should be charged with a wrongful death action in the event that someone suffered critical injuries which resulted in a fatality. If the truck driver dies in the accident, there may be reason to file a claim against the employer or the company that the driver worked for on grounds that they hired a negligent driver and should have been more cautious in their choice of an employee.
Consult Legal Counsel for Your Los Angeles Wrongful Death Claim
It is a sad situation when an innocent person is killed in a trucking accident. A family in mourning should not have to face the long hours of preparing paper work for a wrongful death claim nor should they have to worry about where the money for any medical bills will come from to pay the hospital that made all possible efforts to save their loved one.

Law and dayily life is a nonprofit educational resource. All of the revenue received through advertising on this website will be donated to the UNICEF.